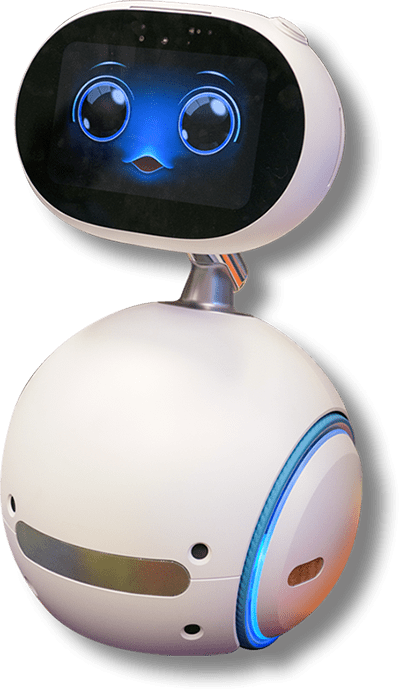 Robotics is an interdisciplinary field at the convergence of engineering, machine learning, creative thinking and practical mechanics. Powered by human ingenuity and bolstered by advances in technology, robots can go places beyond where humankind can go, from outer space to the deepest regions of the ocean. They are ubiquitous in applications from manufacturing to home care (Roomba or home assistant anyone?) and everywhere in between.
Researchers at the University of Delaware are developing and deploying robotic systems across a variety of industries and spaces to conduct transformative research in agriculture, precision medicine, health care, cybersecurity, marine ecology and more. Read on to explore ways these scientists are leveraging robots to gain traction and tackle tough topics.
A Startup with roots
Chemical-free pest control for farmers
S
ome pesticides are harmful to the environment and toxic. Predicting when in the growing cycle pests will appear is difficult, making regular treatment necessary and costly for farmers. The TRIC Robotics team, which includes several UD undergraduate students, has developed an autonomous field robot with the ability to travel up and down the rows in a strawberry field, delivering nonchemical pest protection right to the strawberries themselves. The field robot leverages UVC light technology, developed by USDA scientists.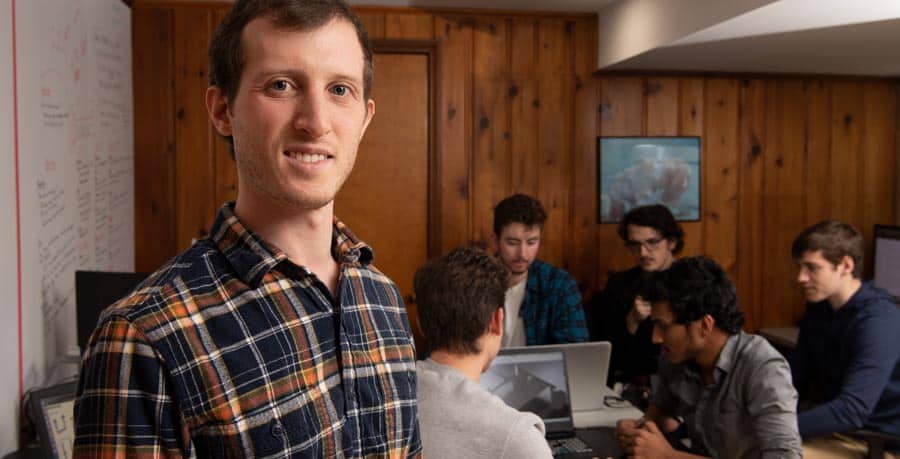 ABOVE: Adam Stager is the founder of TRIC Robotics, a startup company focused on offering strawberry farmers a viable alternative to pesticides. Pre-pandemic photo by Kathy Atkinson.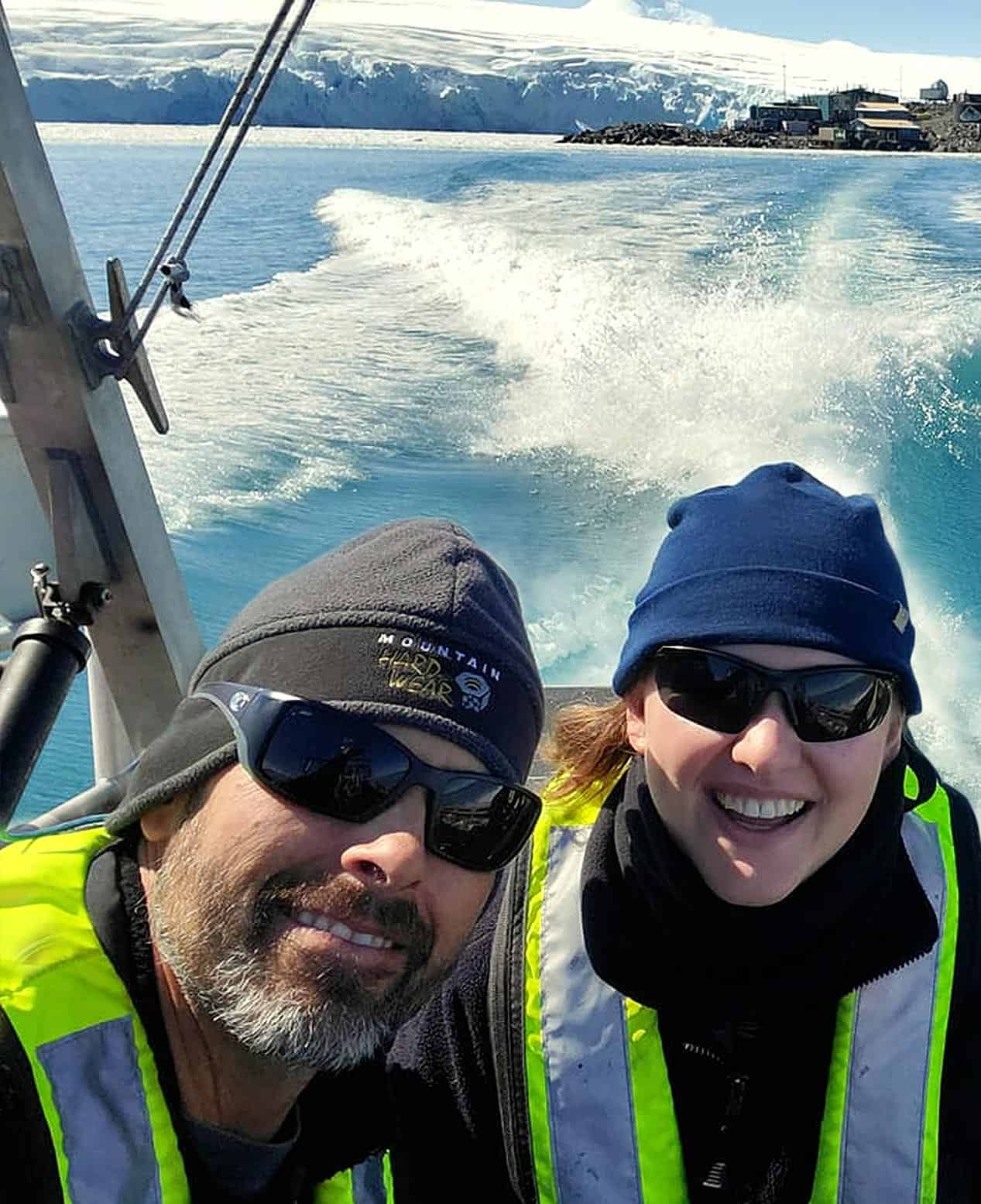 Antarctic food webs
More like farms or grocery stores?
U
niversity of Delaware
researchers Matthew Oliver and Katherine Hudson think that some biological hotspots in Antarctica may operate like grocery stores. They suspect that food resources on the West Antarctic Peninsula are being transported in by different current systems the way that trains, trucks and planes transport goods to the grocery store. If they are correct, it could provide new information about how this ecosystem will be affected under climate change. Autonomous underwater vehicles (AUVs) are a key part of this work, traveling beyond where humans can go to collect important data about the environment, water conditions and marine organisms that call the sea home.

AT LEFT: Matt Oliver and Katie Hudson, part of Team SWARM, heading out to sample Palmer Deep Canyon. In the background is Palmer Station. You can just see Mt. Francis (9800ft) towering above Anvers Island. Photo courtesy of Katie Hudson.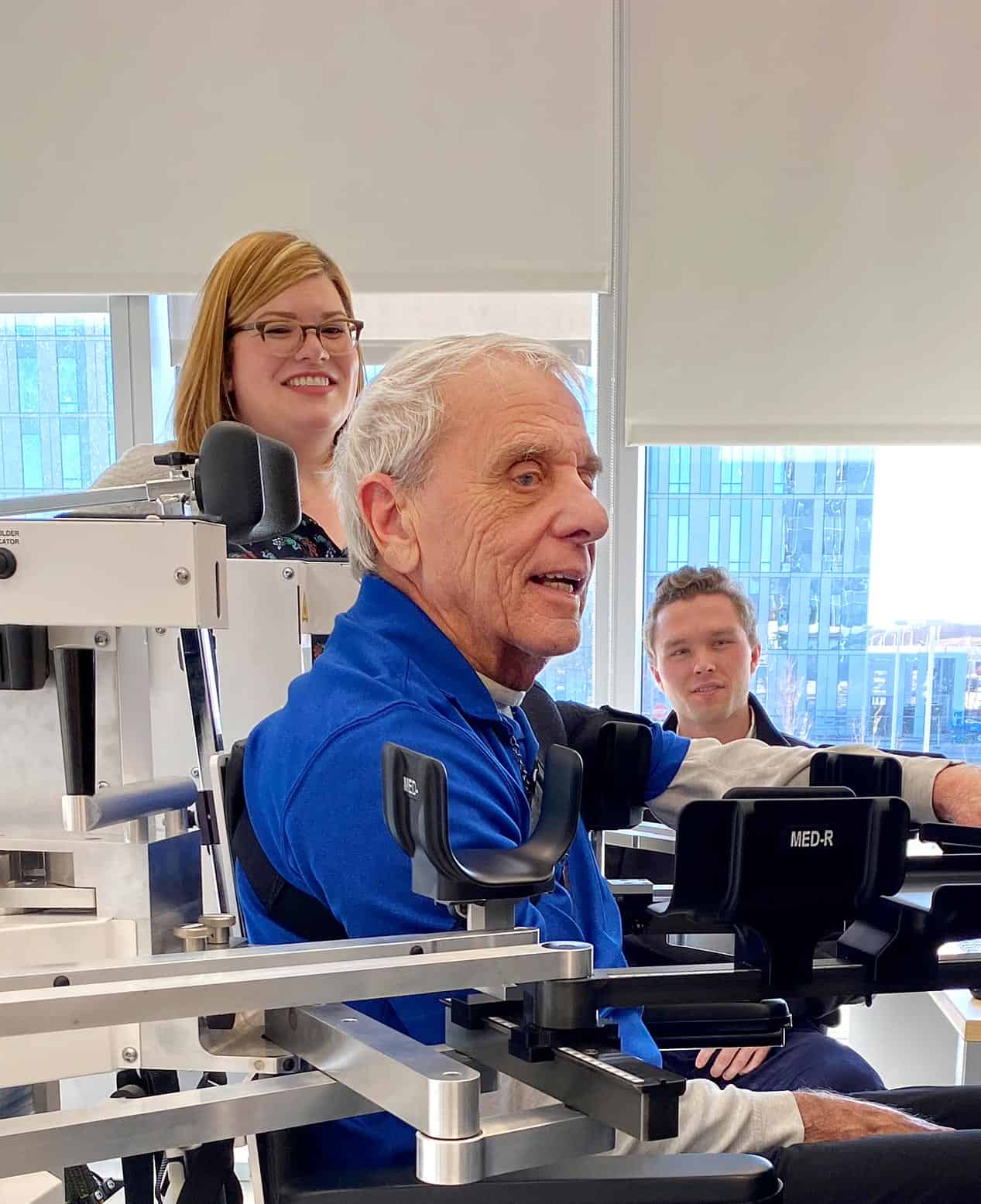 Allies In overcoming stroke
J
ennifer Semrau
, an assistant professor of kinesiology and applied physiology at UD, is delving deeper into a sense that's critical to movement. She's working to help stroke patients with upper limb issues regain the sense to improve their movement and balance. In her lab, Semrau is using a high-performance robot called the Kinarm to help with post-stroke assessments. Only about 50 of these devices are in use around the world. The Kinarm resembles a comfy theater seat in which the patient sits, with independently movable platforms for each arm, and a small virtual reality 'movie theatre' straight ahead.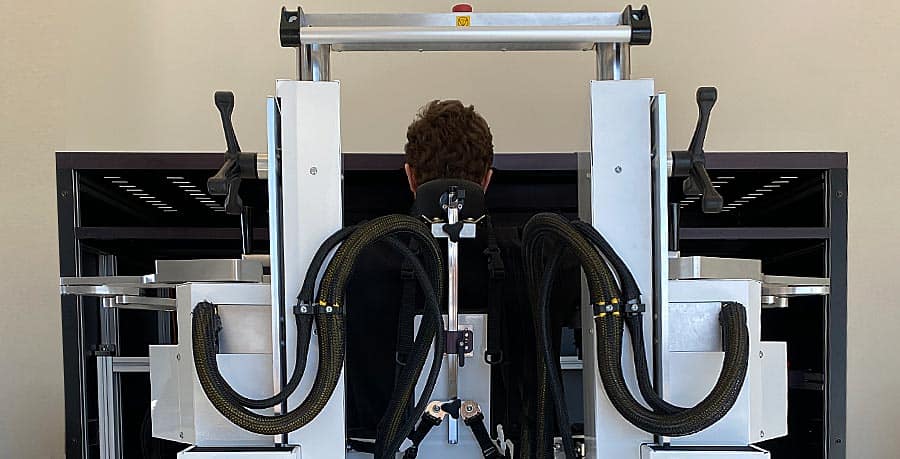 ABOVE: Doctoral student Duncan Tulimieri is using a high-performance robot called the Kinarm to help with post-stroke assessments. Only about 50 of these devices are in use around the world. Pre-pandemic photos by Kathy Atkinson and David Barczak.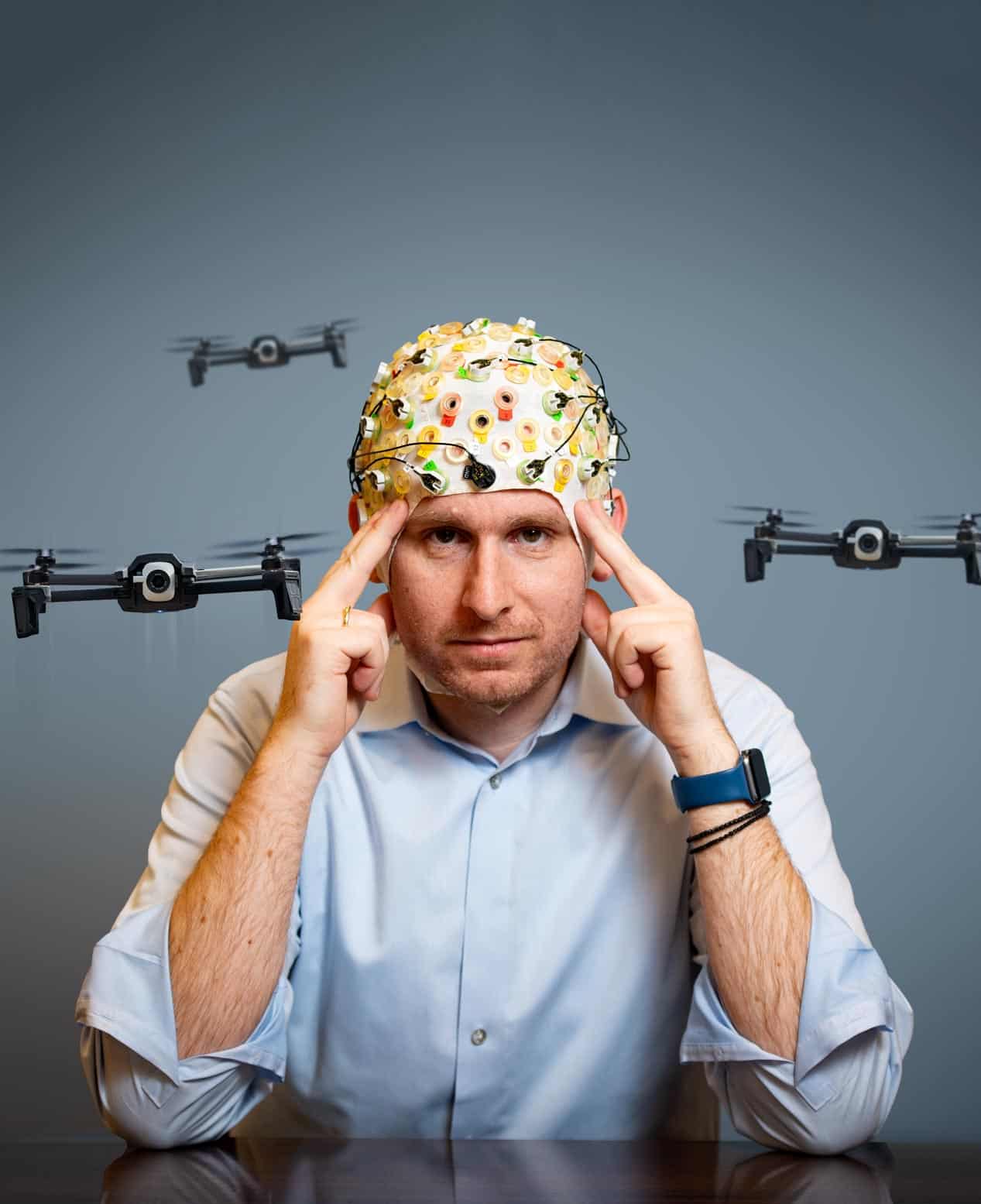 Robots these days
Climbing walls, conducting orchestras and so much more
T
hey're a busy, versatile lot
and their range seems to increase every hour. Panos Artemiadis, associate professor of mechanical engineering at the University of Delaware and director of its graduate program in robotics has been working on "brain-swarm" research that allows humans to control the collective behavior of robotic devices with brainpower alone. This is of keen interest to anyone whose work would benefit from a group of drones, for example, teams doing search and rescue or environmental monitoring.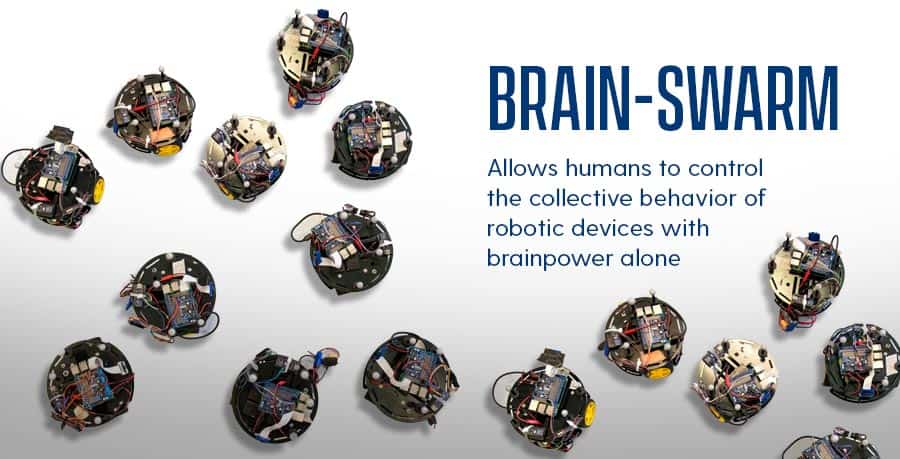 AT LEFT: Panos Artemiadi' work is on the front edge of robotics research as he and his students develop devices that interact with and collaborate with humans in physical and cognitive ways. Pre-pandemic photo by Evan Krape.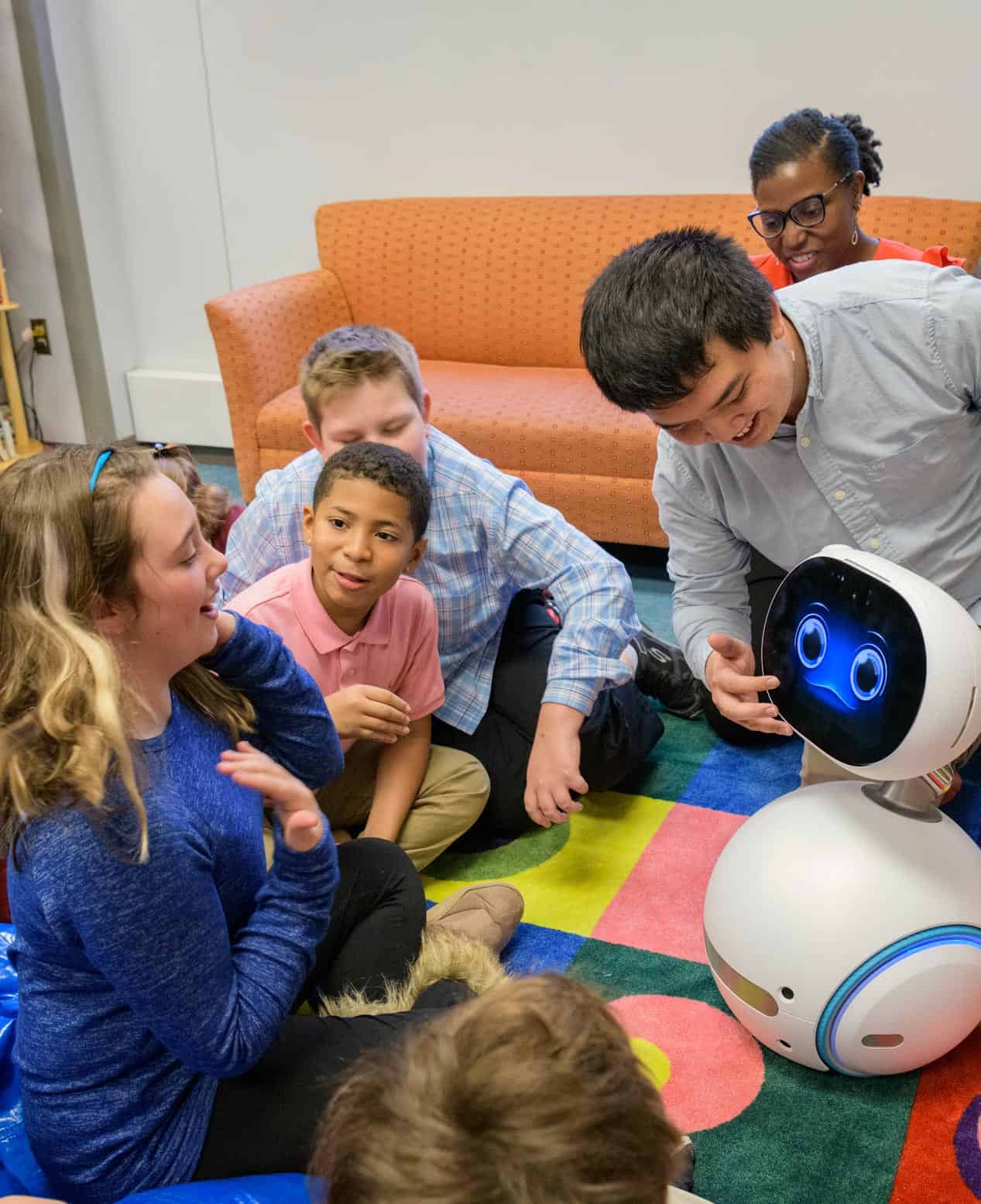 Social Robots
Teaching children cybersecurity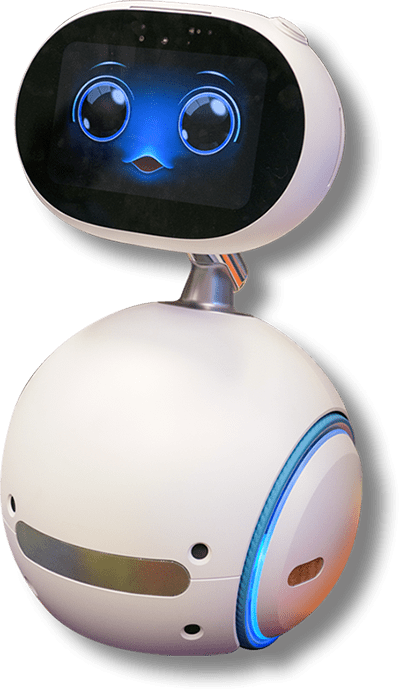 R
esearchers
at the University of Delaware are leveraging an emerging technology known as social robots to test news ways to deliver cybersecurity training in the classroom. This NSF project leverages Zenbo, an off-the-shelf social robot, to deliver cybersecurity lessons by reading children familiar stories, such as Little Red Riding Hood, that have been creatively adapted for the digital age by the UD research team.
AT LEFT: The project is a collaborative effort by Chrystalla Mouza, Distinguished Professor in Teacher Education, and Tia Barnes, assistant professor of human development, in UD's College of Education and Human Development (CEHD) and Chien-Chung Shen, professor of computer and information sciences in the College of Engineering. Pre-pandemic photo by Evan Krape.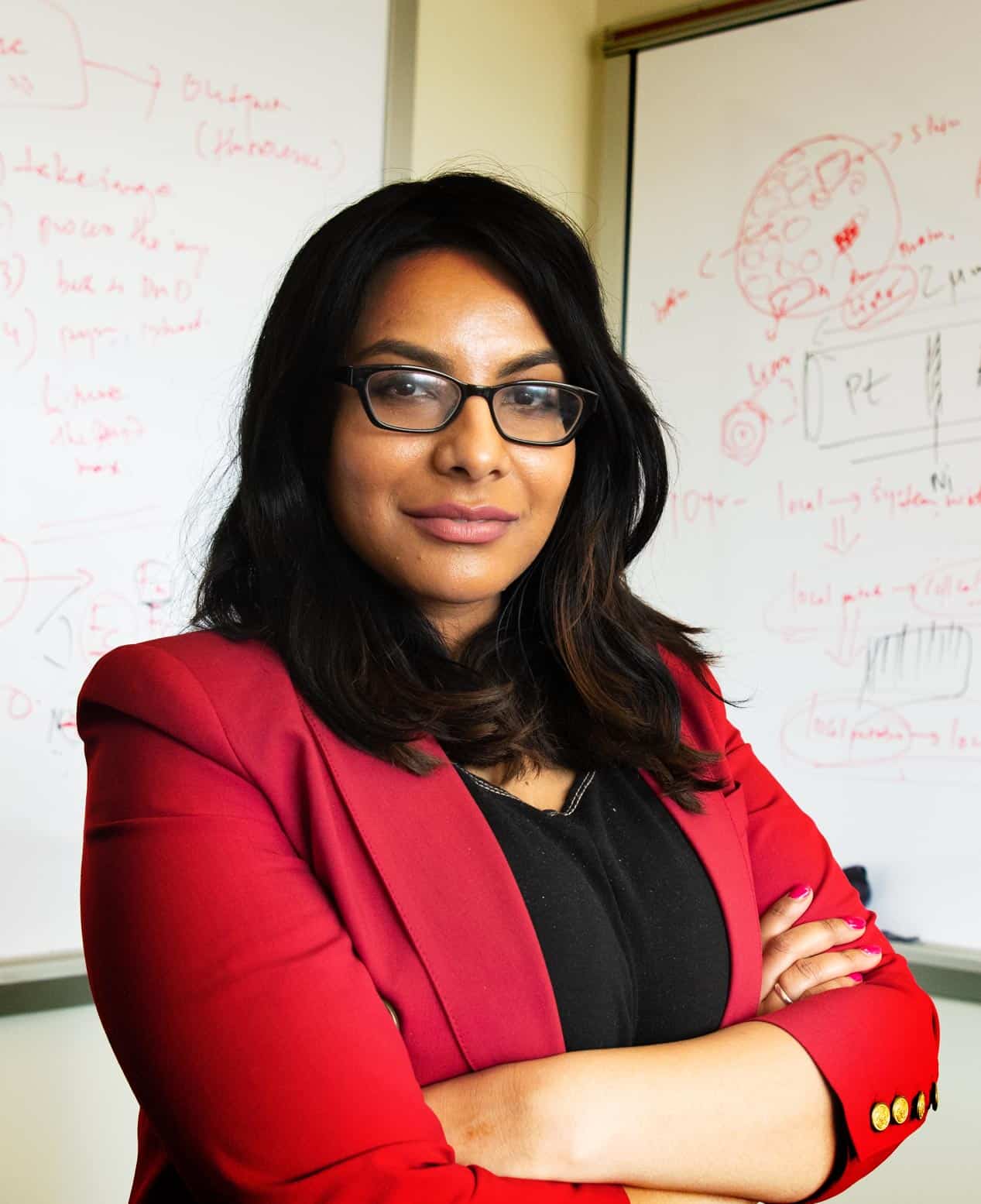 Meet me on the cutting edge
S
ambeeta Das
an assistant professor in UD's Department of Mechanical Engineering and her students are designing microrobots so small they could get lost inside a human cell. The very tiniest measure about 7 angstroms, the size of a molecule of glucose. The largest are only 10 microns long. A single hair on your head is 20 times thicker.

ABOVE: Once the microrobot is made, organic chemistry is used to attach various chemicals to it. The team currently is testing a microrobot shaped like a bullet with a magnetic coating inside, which allows it to be guided with a magnetic field or with sound. The setting above allows the motion of the microrobots to be monitored and guided. Pre-pandemic photo by Evan Krape.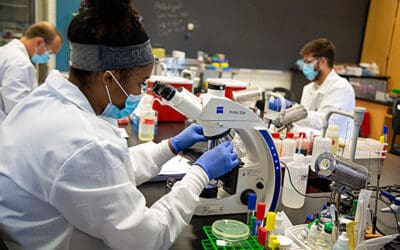 The UD research community continues to navigate COVID-19, with health and safety the highest priority. In spite of hardships, we're facing the pandemic with vigilance and resilience.
read more