Valerie Earnshaw
Associate Professor and Faculty Scholar,
Human Development and Family Sciences
Earnshaw honored for HIV stigma research
S ince Valerie Earnshaw joined UD in 2016, her research has been nothing short of transformational in the field of social psychology. She's attended strategy meetings across the world — from the White House to Malaysia — to educate policy makers and health care providers about the dangers of HIV stigma and the steps that can be taken to help marginalized populations access the care and resources they need to live healthy, fulfilling lives.
In recognition of her contributions, Earnshaw has been presented with the prestigious American Psychological Association (APA) Award for Distinguished Contributions to Psychology in the Public Interest by an early-career scholar. The announcement came just one year after Earnshaw was recognized by the APA as an emerging leader in the field and received the Psychology and AIDS Leadership Award for her "contributions to understanding and addressing the mechanisms underlying HIV stigma."
"Dr. Earnshaw's work is immensely impactful and is changing the lives of some of the most vulnerable members of our society," said Bahira Trask, chair of the Department of Human Development and Family Sciences. "She is a fabulous scholar, but most importantly she has figured out how to use her research to create a better world. This type of applied, translational work is critical for helping solve some of our most vexing social problems." 
Epps receives Percy L. Julian Award
Thomas H. Epps, III, is the 2020 recipient of the Percy L. Julian Distinguished Award from the National Organization for the Professional Advancement of Black Chemists and Chemical Engineers (NOBCChE).
Considered the professional organization's most prestigious honor, the award recognizes achievements in pure and/or applied science. It acknowledges Epps' dedication to research, as well as his commitment to enhancing the STEM community.
Epps, the Thomas and Kipp Gutshall Professor of Chemical and Biomolecular Engineering and a professor in UD's Department of Materials Science and Engineering, reflected on the honor: "For me this is special because Percy Julian is one of the leading chemists in the field, and he is an African American."
Julian was the first African American chemist elected to the National Academy of Sciences. His pioneering research led to the development of medications for treating glaucoma and arthritis, as well as human-made versions of natural products, such as cortisol.
As part of the award, Epps presented a talk in NOBCChE's Master Scientist Series, Sept. 25, on work underway at UD's Center for Research in Soft Matter and Polymers (CRiSP). It is leveraging funding from the National Science Foundation's Growing Convergence Research program to develop new technologies to convert biomass waste into high-performance polymers for pressure-sensitive adhesives, 3D-printed plastics and other materials.
Thomas H. Epps, III
Thomas and Kipp Gutshall Senior Career Development Chair,
Chemical and Biomolecular Engineering
Grad Students
FROM LEFT: Carly Byron, Jeffrey Hudson, Maggie Capooci and Aeri Gosselin
Grad students win prestigious energy grants
During 2020, Carly Byron, Jeffrey Hudson, Maggie Capooci and Aeri Gosselin, all doctoral students at the University of Delaware, have the opportunity to work with some of modern science's most advanced tools, courtesy of the U.S. Department of Energy's National Laboratories.
The four are among 62 graduate students nationwide who were selected to receive competitive grants from the DOE Office of Science Graduate Student Research Program. The awards support the students' travel and up to $3,000 per month in living expenses while in residence at a National Lab, a period that may range from three to 12 months.
Byron wants to capture greenhouse gases and convert them into renewable fuels, working at Argonne National Laboratory near Chicago.
Hudson is focusing on optimizing oil and natural gas production from fracking wells in his work at the National Energy and Technology Laboratory (NETL), just outside Pittsburgh.
Capooci will examine the age of the carbon being released from the marsh at Delaware's St. Jones Reserve in research at Lawrence Livermore National Laboratory in California.
Gosselin recently completed her work at Lawrence-Berkeley National Laboratory in California, researching unique porous molecules as a new designer material for cheaply storing economically important gases . 
Korley named Fellow of American Institute for Medical and Biological Engineering
By creating new materials inspired by nature for applications in healthcare, sensing, soft robotics and more, LaShanda Korley is pushing the boundaries of what materials scientists and engineers previously thought possible.
For outstanding contributions to bio-inspired materials design and manufacturing, Korley, UD Distinguished Associate Professor of Materials Science and Engineering and Chemical and Biomolecular Engineering, has been named to the College of Fellows of the American Institute for Medical and Biological Engineering (AIMBE). The College of Fellows consists of the top 2% of medical and biological engineers.
"I am extremely honored to be elected to the 2020 Class of AIMBE Fellows," said Korley. "The recognition by such an esteemed engineering community is particularly important to me, as it highlights the impact and relevance of my research lab's focus on bio-inspired strategies to develop mechanically-robust and responsive soft material systems with applications from tissue engineering scaffolds to gradient coatings. It also reinforces how blessed I am to have such a talented team of researchers — past and present — in my lab."
Korley leads a laboratory focusing on the study of soft matter, polymers and bio-inspired materials — materials with properties like those found in nature. For example, she is designing materials inspired by strong spider silk and by the flexible jaws of sea worms.
LaShanda Korley
Distinguished Associate Professor, 
Materials Science and Engineering and Chemical and Biomolecular Engineering
Babatunde Ogunnaike
William L. Friend Chair of Chemical Engineering
Ogunnaike on leadership team for National Academies' study
T he University of Delaware has long been known as a destination for chemical engineering, with academic programs that consistently rank among the best in the nation.
Thus, it is perhaps no surprise that a UD chemical engineering professor, Babatunde Ogunnaike, was invited to help set the course for the future of the discipline.
Babatunde Ogunnaike, William L. Friend Chair of Chemical Engineering at the University of Delaware, is joining leaders from other top universities as a member of the provisional committee for the National Academies of Sciences, Engineering, and Medicine's Board on Chemical Sciences and Technology's new three-year study: Chemical Engineering in the 21st Century: Challenges and Opportunities. The committee will lead the study in outlining a vision for chemical engineering research, education and industrial innovation over the next 30 years.
Ogunnaike has been asked to lead the sub-group specifically focused on the question: What are the emerging capabilities and tools that will impact chemical engineering in the future? The committee will build upon the legacy of a seminal 1988 report from the National Academies — Frontiers in Chemical Engineering: Research Needs and Opportunities — which outlined key areas that influenced the next three decades for chemical engineers.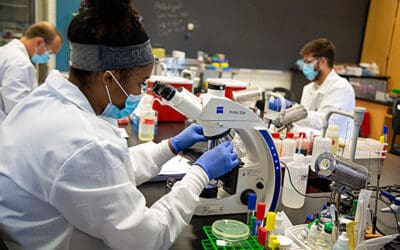 The UD research community continues to navigate COVID-19, with health and safety the highest priority. In spite of hardships, we're facing the pandemic with vigilance and resilience.
read more