Test Your Knowledge
Back to Nature
LAUREN BARCZAK
UD Wildlife Ecology Major
To reduce stress and strengthen our immune systems, experts often point us to the outdoors. So let's get moving! There's lots to see and hear, absorb and appreciate in nature.
Explore the scene below at Delaware's Brandywine Springs along Red Clay Creek, which was a Revolutionary War encampment of General George Washington's Army. By scrolling left, right, top and bottom, see if you can find the five clues that will help you answer the six questions.
ANSWER KEY
QUESTION 1:
Migratory bird populations such as thrushes, warblers, orioles and more face rapid declines due to what factors?
ANSWER:
All of these
QUESTION 2: What signals leaves to change their color?
ANSWER: Weather
QUESTION 3: Approximately what percentage of Delaware public water supplies are obtained from surface-water sources such as creeks north of the C&D Canal?
ANSWER: 70%
QUESTION 4: There are 20 wildlife areas in Delaware, covering how many acres?
ANSWER: 26,000+ Acres
QUESTION 5: What state is similar to hibernation?
ANSWER: Brumation
QUESTION 6: What pigment makes leaves green?
ANSWER: Chlorophyll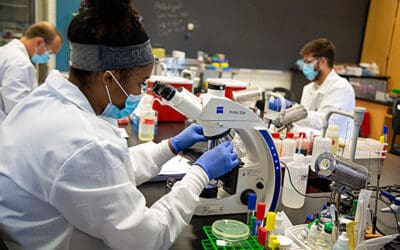 The UD research community continues to navigate COVID-19, with health and safety the highest priority. In spite of hardships, we're facing the pandemic with vigilance and resilience.
read more