J
ust before 9 a.m. on a Tuesday, a dozen people disembark the southbound commuter train at the Newark station. The riders exit the platform on the northern edge of the
University of Delaware's Science, Technology and Advanced Research (STAR) Campus
and hurry off. The train station, really a ramshackle booth papered with notices and timetables, is not optimal, nor is the number of passengers.
This transportation hub will soon get a needed upgrade with construction set to begin in 2017 on a $50 million station and track project. UD and its partners expect a new station will bring new riders and serve as an anchor for its 272-acre STAR Campus, an environment designed to serve as another sort of hub, linking academic research and innovation with industry.
Currently most of the ridership leaves Newark in the mornings, as local residents commute to Wilmington or Philadelphia via the Southeastern Pennsylvania Transportation Authority (SEPTA) regional rail. Mark Tudor, who oversees the project for the Delaware Department of Transportation (DelDOT) looks forward to a reversal.
"We would anticipate and frankly hope that the STAR Campus becomes a destination," Tudor said.
Plans include a station building, increased parking and a new raised platform. The current platform is too low to the ground and not fully wheelchair accessible, whereas completed facilities will be compliant with the federal Americans with Disabilities Act requirements. The new station building will include a waiting room, restrooms and a ticket booth.
Funding for the project comes from the federal government, the state of Delaware, SEPTA, UD, the city of Newark, New Castle County and the Wilmington Area Planning Council. Amtrak and rail freight carrier Norfolk Southern coordinated in planning.
Officials anticipate SEPTA will increase its service to the station, the final stop on its sole line connecting Delaware with Center City Philadelphia and points beyond. The improved facility may also encourage Amtrak to stop more frequently in Newark.
Currently, trains stop once each weekday southbound and twice daily northbound. None of the departure times is convenient for business travelers who typically must board in Wilmington for travel to New York or Washington, D.C. University officials believe the new commuter-friendly facility will become a community asset and a magnet for future STAR tenants.
"The old adage of 'location, location, location' is true," said Alan Brangman, UD's interim executive vice president and University treasurer. "One of the challenges we have in Newark is being able to convince people that it is easy to get in and out of here."
Brangman said increased rail service and STAR's proximity to Interstate 95, just a half-mile away, are major selling points. Companies looking to locate on STAR Campus will have ready access to the East Coast's most-traveled rail and auto arteries.
"If we had no train station at all, I think we'd have a much harder sell for the site," Brangman said.
Courtesy of:
Whitman, Requardt & Associates, LLP
Collaborations key to future
The University is building out STAR Campus through collaboration with outside entities. UD purchased the acreage, formerly home to a Chrysler vehicle manufacturing facility, in 2009 and leases the land to industry partners. Current and future tenants build facilities that suit their individual needs while simultaneously fitting the University's vision of a mixed-use urban development with vibrant street life.

Delle Donne and Associates, a commercial property development and management company, currently is developing 16 acres of the site. The acreage already includes the University's Health Sciences Complex and a recently opened adjacent building housing a medical prosthetics firm, an emergency care facility and a venture capital-backed software firm. A 10,000-square-foot wet lab incubator space will soon be open.
The University's master plan for STAR Campus does not explicitly include any dedicated traditional academic space; instead emphasis is placed on real-world learning. Potential tenants are expected to offer internships for students and collaborative research opportunities for faculty.
Gene Delle Donne, Delle Donne and Associates' lead developer on the STAR Campus, said that requirement doubles as an enticement for the small- to medium-sized businesses he is wooing.
"Their first question I get is how do I work with the students? How do I develop a partnership with the University?" he said.
The Delle Donnes are now working on plans and municipal permits and obtaining University approval for the next phases of their STAR project.
Demand, they said, is outpacing availability.
"The next challenge is we have to give it more sense of place and character with residential, retail, amenities, etc., so it's not just another office campus," Ernie Delle Donne, chair of Delle Donne and Associates, said.
University officials could not agree more. All involved see STAR Campus as a unique opportunity to build a planned community centered on research and innovation that drives local economic development.
At the close of 2015, Google named Newark as Delaware's top tech city, citing the connection between the private sector and the University. Those partnerships only grow stronger as STAR Campus welcomes new tenants and commuters.
Following the station enhancement, officials are hopeful that the Maryland Transit Administration will extend its MARC commuter train service to Newark. The distance between Newark and MARC's last station in Perryville, Maryland, represents the only gap in commuter rail service between New York and Washington, D.C. Filling it would allow riders to travel between the nation's financial and political hubs using only commuter rail, linking New Jersey Transit, SEPTA and MARC.
Growing new businesses
by Andrea Boyle Tippett
Good ideas need space to grow. For scientific innovation, that space typically includes lab equipment—centrifuges, refrigeration, imaging instruments and the like—expensive equipment for any startup. Such "wet labs" are highly valuable and in high demand.
This fall, wet lab incubation space will open on UD's Science, Technology and Advanced Research (STAR) Campus to help early-stage developers test their ideas and expand their concepts into full-fledged companies.
The 10,000-square-foot location includes offices, individual labs outfitted to match the needs of 12 startup companies, and shared spaces with equipment for use by all incubator tenants. The tenants represent a mix of spinoffs evolved directly from UD research and outside entrepreneurs in life sciences, agriculture and materials science, historic research strengths of the University. Delaware Technology Park (DTP), a partnership between the state of Delaware, UD and private entities, will run the operation.
"I like to use the analogy of organic gardening," Mike Bowman, DTP president, said. "We plant the companies and give them space to grow. We have high hopes for our incubator tenants."
The incubator will stand less than a mile from UD's main campus, giving the entrepreneurs ready access to multi-million-dollar resources such as supercomputers and the library, as well as graduate students and faculty. Bowman said he has seen this "symbiotic" relationship prosper since DTP was established on what was previously a cornfield in 1992.
The park boasts a record of success in helping early stage companies thrive. Ninety percent of DTP's tenants at its flagship 40-acre research park have expanded their operations. Nearly all of the firms kept their operations base in Delaware. In total, DTP has helped create 16,000 jobs.
Bowman points to QPS, a contract research organization for big pharmaceutical companies that started at DTP with two people in a lab. Now the firm is 1,400 employees strong with a presence in 40 countries and an upcoming spinoff. He expects to have similar stories to tell about the STAR incubator in the coming years.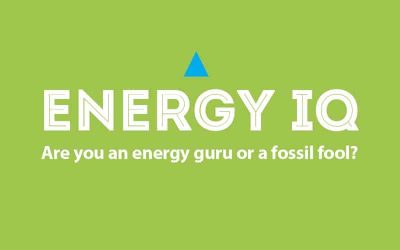 Put your Energy IQ to the test, and let's see if you are an energy guru or a fossil fool.