Research & Discovery
A Blog Devoted to UD Innovation, Excellence and Scholarship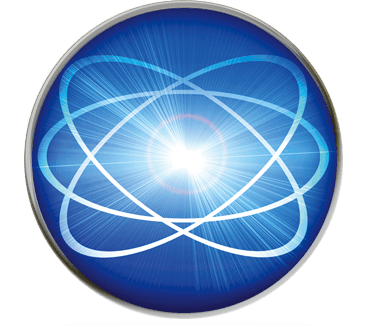 Research & Discovery
A Blog Devoted to UD Innovation, Excellence and Scholarship
UD flexes its research muscle on capitol hill
'UD Day in DC' highlights impact of federal funding, strong connections
The University of Delaware offered up a room full of research during its fifth "UD Day in D.C." and the Capitol Hill event drew high praise from those who attended.
"This is a fabulous display of the cutting-edge research that you're doing, the education, the training — the things that you're delivering not just to Delaware but to our country and the world — solutions across so many different areas," said Delaware U.S. Sen. Chris Coons, who serves on the powerful Senate Appropriations Committee and five of its subcommittees.
Several dozen UD researchers participated, all of whom get support from federal agencies. They filled a large reception room in the Hart Senate Office Building and spent two hours explaining what they do and why they do it.
"It is demonstrating to everybody why research matters," said UD President Dennis Assanis. "It definitely matters at UD. It is our lifeblood. And it matters to our entire society and our economy, so we're here to demonstrate the great work we're doing."
Assanis also underlined the importance of federal funding and legislative advocacy, both of which help to fuel UD's research.
Federal grant officers, congressional staffers and D.C.-area alumni took advantage of the opportunity to talk with the scientists and investigators. The event also gave researchers a chance to hear from Delaware's leaders on Capitol Hill.
Delaware U.S. Sen. Tom Carper called out many examples of UD's work — in cybersecurity, composite materials, veterans' health, agriculture, clean energy, climate and environmental work, to name a few.
"We're very lucky to have the University of Delaware as a big part of our lives," he said. "I'm very grateful to stand with you."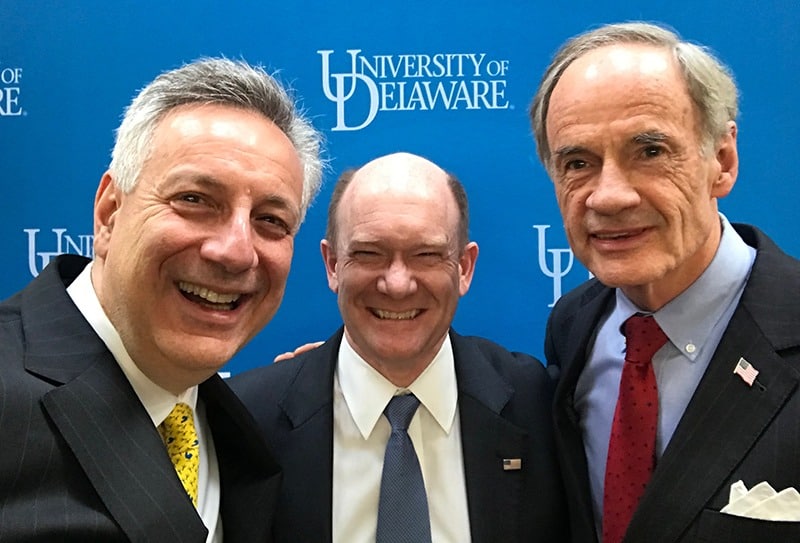 ABOVE: University of Delaware President Dennis Assanis takes a quick "selfie" with Delaware's U.S. Senators — Chris Coons (center) and Tom Carper (right) during the fifth "UD Day in D.C." event on Capitol Hill. | Photo by Dennis Assanis
Federal friends in the house
Representatives of several federal agencies that support UD research were on hand to meet with those whose work they oversee and also to see what else UD is up to.
"This is a very nice display — and I really like seeing my awardee," said Ann Lichens-Park, who works with the U.S. Department of Agriculture's National Institute of Food and Agriculture, which supports the research of UD's Nicole Donofrio, associate professor of plant pathology, through a joint program with the National Science Foundation. NSF Program Director Michael Mishkind also visited with Donofrio.
"It was just a really pleasant chance to talk about science and life in general," Donofrio said. "We so rarely get to do that and these are great people — smart, fun and interesting."
Ming Lei of the National Institutes of Health was present and spent a few minutes chatting with Coons about upcoming budget requests. The NIH is the single largest sponsor of UD research, providing $38 million in support in fiscal year 2018 alone.
"The University of Delaware's science covers multiple fronts, from neuroscience to cardiovascular," Lei said. "And they are in the forefront of bioinformatics and cybersecurity. It's very, very impressive."
As director of the National Institute of General Medical Sciences' Division for Research Capacity Building, Lei oversees the Institutional Development Award (IDeA) program, designed to build capacity in states that have historically had low levels of NIH funding, including Delaware.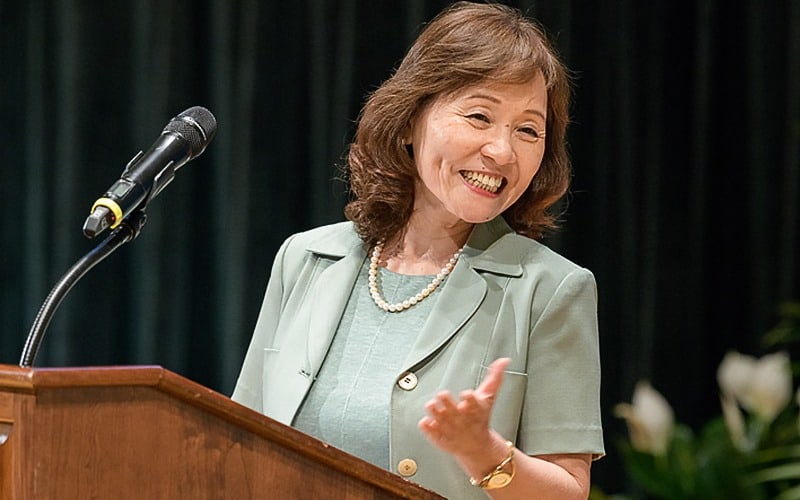 Launch of Data Science Institute adds major collaborative muscle