RESEARCH
DISCOVERY
A Blog Devoted to UD Innovation, Excellence & Scholarship
Biotechnology Innovation Hub
Global experts visit UD to learn about biotech ecosystem
Photo by Kathy F. Atkinson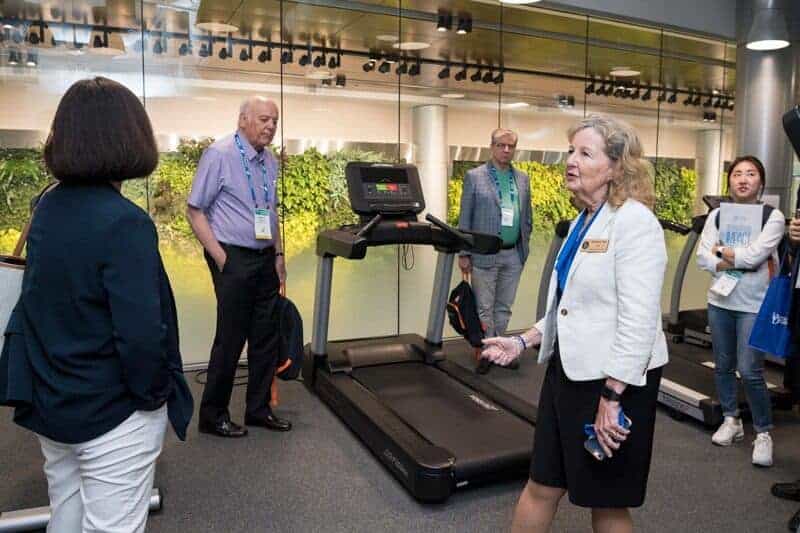 UD College of Health Sciences Dean Kathy Matt shows BIO 2019 visitors a physical therapy lab at STAR Campus.
Global leaders and experts in biotechnology and life sciences toured the University of Delaware's
Science, Technology and Advanced Research (STAR) Campus
on Monday, June 3, to learn about the vibrant innovation community taking shape in Newark, Delaware.
The visit was part of a broader Delaware biotech ecosystem tour offered at the BIO International Conference, held June 3-6 at the Pennsylvania Convention Center in Philadelphia. BIO 2019, an international gathering of more than 16,000 people from 74 countries, provided a forum to network and learn about biotechnology and biopharma trends and policy issues, while celebrating the latest research and innovations in health care, agricultural, industrial and environmental biotechnology products.
The University of Delaware is a 21st century research university with a proud legacy of education and innovation, where academic research, discovery and entrepreneurship come together to make a positive impact on the world. UD's 272-acre STAR Campus is home to a growing community of trailblazers in health, energy, the environment, and financial technology and services.
"UD is an emerging leader in the exciting field of biopharmaceutical research. Building on our University's rich legacy, today's innovators — our students and faculty — are shaping the front lines of discovery," said UD President Dennis Assanis.
"New partnerships, collaborations and facilities developing on STAR Campus, including the Ammon Pinizzotto Biopharmaceutical Innovation Center, will accelerate our cutting-edge work targeting Alzheimer's, Parkinson's, diabetes, cancer and other devastating diseases."
Hub of innovation
In welcome remarks, College of Health Sciences (CHS) Dean Kathy Matt called the STAR Campus "an opportunity to bring the community in" and a way to inspire researchers and students to develop ideas and solutions that can have an impact on the community.
To achieve this requires more than transformative interdisciplinary research and academic instruction, she said. Partnerships are a critical part of creating this innovation ecosystem.
In the Health Sciences Complex, for example, walls that formerly housed equipment to produce automobiles when the site was part of the Chrysler assembly plant now hold a physical therapy clinic, nurse managed health center and speech-language-hearing clinic, where students learn while partnering with the community and businesses. These facilities are situated in close proximity to research labs, inspiring "collaboration through collision," Matt said.
Visitors learned about the new Ammon Pinizzotto Biopharmaceutical Innovation Center currently under construction, which will serve as the headquarters for the National Institute for Innovation in Manufacturing Biopharmaceuticals (NIIMBL) and the Delaware Biotechnology Institute (DBI), among others.