RESEARCH
DISCOVERY
A Blog Devoted to UD Innovation, Excellence & Scholarship
Delaware Sea Grant COVID Response
Delaware's aquaculture and tourism industries receive help from Delaware Sea Grant during COVID-19 pandemic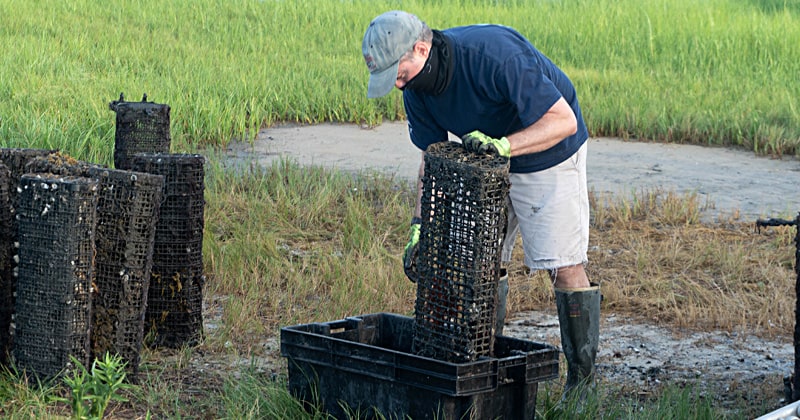 To help Delaware's aquaculture industry deal with the financial impact of COVID-19, Delaware Sea Grant procured funds from the National Sea Grant office to help shore up the industry by purchasing oysters from Delaware Inland Bays growers for use in an ongoing restoration effort in Rehoboth Bay and for further growth in Delaware Bay waters where commercial harvesters produce the state's wild harvest oysters. Chris Petrone, director of DESG Marine Advisory Service, was on hand recently to help with the effort.
When the coronavirus (COVID-19) pandemic hit Delaware, many industries felt the negative impacts that accompanied the virus and the subsequent lockdown. Two areas that were particularly susceptible to the economic ripple effects caused by the virus were Delaware's aquaculture and tourism industries.
Changes within the restaurant industry caused by COVID-19, such as prolonged closures and decreased seating capacity, created a bottleneck between seafood producers and consumers, which significantly affected seafood sales in 2020.
Likewise, the tourism industry, which has long been one of the pillars of coastal Delaware's economy and typically generates $2.1 billion annually in visitor spending while supporting 19,000 jobs, was hit hard by COVID-19, which caused people to become reluctant to travel out of state.
To help offset some of the losses felt by these industries in the first state, Delaware Sea Grant (DESG) procured funds from the National Sea Grant office to help shore up both industries.
Ed Hale and Dennis McIntosh, aquaculture specialists for DESG, led the effort with regards to the aquaculture and shellfish industry while Ed Lewandowski, who works in Coastal Community Development for DESG and is coordinator of the University of Delaware's Sustainable Coastal Communities Initiative, helped Southern Delaware Tourism with a marketing campaign to bring people back to the Delaware beaches.
Direct Seafood Sales
To help seafood producers shift sales directly to consumers, DESG created a webpage to help promote local, sustainable seafood options and connect the public with seafood providers. 
"When Covid hit, it really turned up the need for that type of information because essentially all the restaurants and fish auction houses closed and shuttered up and they weren't buying anything," said Hale. "So everybody moved to direct sales real fast. Almost overnight. And our striped bass fisherman started to get in contact with me and they said, 'We can't sell anymore. What can you do to help us?' "
The website was created by Kevin Liedel, digital communications specialist with DESG and UD's College of Earth, Ocean and Environment, who Hale credited with getting the website up and running in a timely fashion. 
Hale, for his part, went to work collecting information such as the names and contact information for all of the seafood providers who wanted to participate. 
DESG ran advertising campaigns in the summer and fall to promote the webpage and seafood consumption, especially of Inland Bays Oysters.
"It was really just a big effort to try and get consumers a place where they could find that information," said Hale. "I've got a lot of feedback from commercial fishers and from shellfish growers about how happy they were to make contact with people."