RESEARCH
DISCOVERY
A Blog Devoted to UD Innovation, Excellence & Scholarship
Lessons from a 'Devastating' Year
UD marks pandemic landmark with updates from researchers, medical officials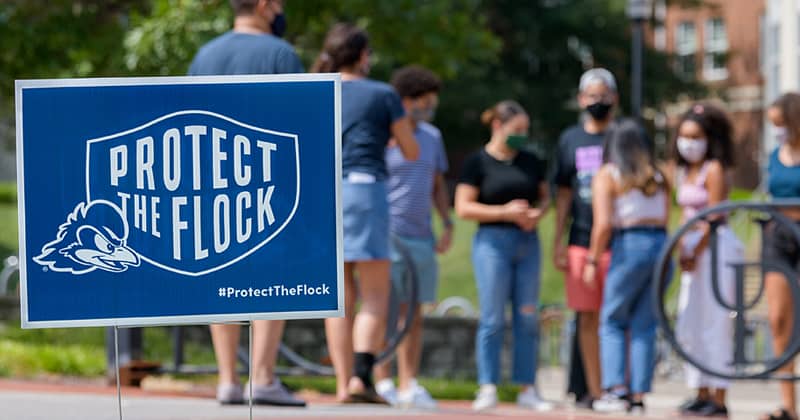 Seven UD researchers and the director of Delaware's Division of Public Health offered a 90-minute update on what we've experienced, what we've learned and what we face next, as the world marks one year since the COVID-19 virus was declared a global pandemic.
It was time for that annual checkup. But this year, the coronavirus (COVID-19) needed no formal introduction.
It had been a year since March 11, 2020, the day the World Health Organization declared the virus to be a global pandemic and the state of Delaware announced its first case.
Back then, the word "coronavirus" was still a novel concept to most. COVID-19 had not been seen before December 2019. And the University of Delaware hosted a 90-minute panel discussion at Mitchell Hall, sharing information from experts in medicine, public health and history to help people grasp what was happening.
After a yearlong crash course on the virus, a year that saw more than 529,000 deaths in the United States and more than 2.6 million globally, UD's College of Arts and Sciences hosted another 90-minute panel. This time, the event was held virtually. It provided an update on research and the public health implications of the virus, its new variants and the vaccines that have emerged in record time.
More than 300 people participated in the webinar, which was recorded on Zoom by University Media Services and can be viewed at this website. They heard examples of the hard virus-related work many disparate professionals have been doing. They heard cautious optimism.
And they heard again of the strain and loss experienced by so many.
"This crisis has eclipsed any public health emergency response we've ever been involved in," said Dr. Karyl Rattay, director of Delaware's Division of Public Health, "as far as time, magnitude, complexity — and the loss of life is devastating."
COVID-19 has claimed almost 1,500 lives in Delaware in the past year and almost 90,000 cases have been reported.
By contrast, in a regular flu season Delaware might lose 15 people, Rattay said, and its worst flu season ever took 38 lives.
This past whirlwind year brought extraordinary pressure to health systems, exposed many pre-existing inequities and required much collaborative effort, Rattay said.
The rapid spread of the virus demanded quick response and caused unprecedented upheaval. UD closed down almost everything on campus, for example, moving to a virtual environment and reopening gradually as conditions changed.
"I don't think any of us had any idea what the year was going to bring to our campus, our state, our country and our world," said UD Provost Robin Morgan. "We are so fortunate to work in a community where there are people who can better help us understand this coronavirus."
Testing and contact tracing have been key to tracking the disease and efforts to slow the spread. Rattay thanked the University for its partnership in testing, which has helped give Delaware one of the highest testing rates in the nation.
Already, more than 270,000 vaccines have been administered in Delaware, Rattay said. As eligibility widens and dosages become more readily available, those numbers will increase.
"Equity is a real issue," Rattay said. "We need to meet people in their communities, where their leadership, pastors and trusted champions are getting vaccinated and encouraging others to get vaccinated. We are focused on the many barriers among our higher-risk populations."
As vaccination continues, people should still wear face coverings and maintain physical distance, she said.
During a question-answer period, Rattay said she is glad UD established a program in epidemiology. The program is one of the newest in the College of Health Sciences, founded in 2018 when Prof. Jennifer Horney joined UD's faculty.
"If we could rewind to a decade ago, that's where I wish the state had done some things differently," Rattay said. "We were really weak in epidemiology."
UD's epidemiology students have been very helpful during the past year, she said.
She also wishes the state had updated its data structure for laboratory reporting.
"It was just about to be modernized, but the pandemic really hit us and the system wasn't ready for the quantity of labs we needed to take on," she said.
"I also wish we had known how common asymptomatic spread would be. We didn't think masks were necessary at first, except for symptomatic people."
She finds it interesting that many other respiratory infections have been almost non-existent this past year and believes many will feel more comfortable wearing masks and face coverings in the future.
"A lot of lessons have been learned along this journey. We don't ever want to go through this again, but we probably will and we're in a better place now to handle this than we were a year ago."
Many UD researchers discussed the work they have been doing during the COVID outbreak. Among them…