CRACKING A CELL'S SECRET CODE
Jason Gleghorn has held a variety of jobs since college—teacher, firefighter, medic, engineer. Today he is an interpreter of sorts, too, deciphering the language that cells use to communicate.
No, Gleghorn doesn't have a secret decoder pin like the one Ralphie Parker used in A Christmas Story to translate covert messages from Little Orphan Annie. Rather, he uses science and engineering to understand how cells talk and interact in hopes of advancing treatment options for congenital birth defects, pediatric diseases and more.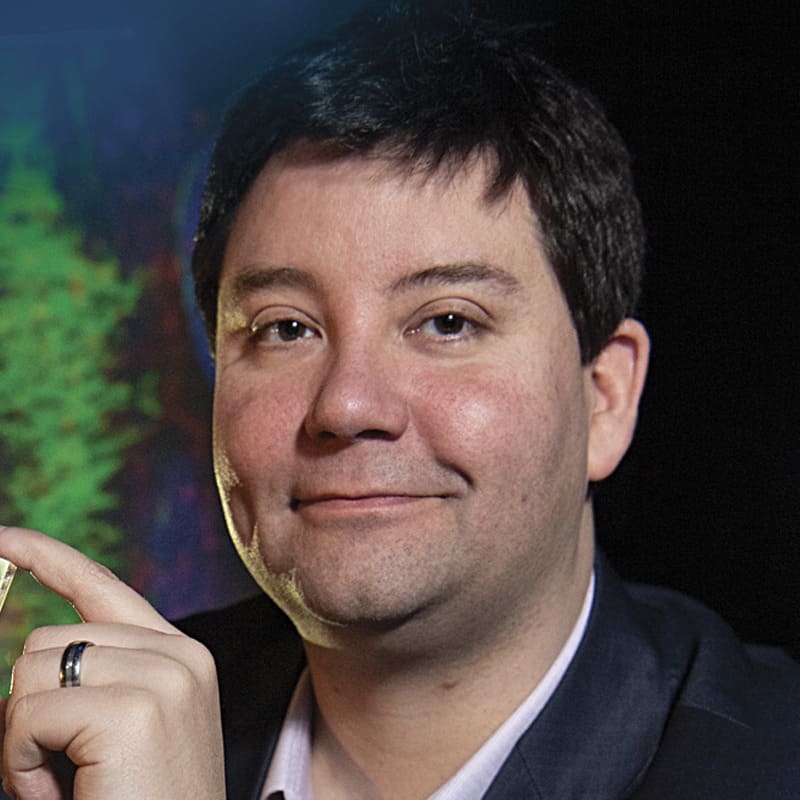 Jason Gleghorn
Assistant Professor
Department of Biomedical Engineering
MEET JASON
Jason Gleghorn is an assistant professor of biomedical engineering at UD. His research focuses on understanding how cells behave and communicate in order to assemble into functional tissues and organs, especially the lungs, kidney and blood vessels. This includes developing tiny 3D microfabricated and microfluidic tissue and organ models (lab-on-a-chip or organ-on-a-chip systems) to investigate the biophysical forces and chemical signals that drive tissue growth, homeostasis and disease.
Gleghorn also is exploring how mechanical forces influence cellular behaviors and interactions at the cell, tissue and organ-length scales to define new therapeutic approaches for regenerative medicine.
"If science tells us anything, it is that a life-changing discovery is just around the corner. We just need the courage to test some of our craziest ideas to try and make a real difference."
—Jason Gleghorn
Question:
What do you study, and what led you into this field?
Answer:
We study how multicellular systems build complex tissues and organs and how these change in disease. Essentially, we study how populations of cells talk to each other, deciphering the language (chemical signals, electrical impulses and physical forces) they use to communicate. My path has included studying engineering as an undergraduate, being a seventh-grade public schoolteacher, graduate school, working as a firefighter and medic, and completing two postdocs. I've trained in three different scientific disciplines and have practical experience performing emergency medicine in the field. These experiences inform my desire to work on translational research to develop treatments for congenital birth defects and conditions associated with premature birth, maternal and fetal health, and pediatric diseases.
Question:
Did you color outside the lines as a kid?
Answer:
I am an engineer, so I do like lines. However, much to my parents' frustration, I would often take electrical/mechanical devices apart to see how they worked and often repurposed the parts for things I was building. As I got older, I could even reassemble the items so they were functional again.
Around age 5, I was notorious for taking apart click pens to steal the springs and internal parts. I would put the pens back together (now useless), then build little shooters and cars with the parts!
Question:
Can you recount the tipping point—the idea that produced your 'aha!' moment?
Answer:
My undergraduate degree is in mechanical engineering. It wasn't until I took a physiology course in my senior year that I became amazed at how the human body works. In grad school, I took gross anatomy, physiology and pathophysiology with the medical students. As I learned how we grow and develop in the womb, it dawned on me that, mechanically speaking, embryonic organs are microfluidic systems–teeny tiny fluid-filled tubes–that grow and remodel. This solidified my ideas that fluids and mechanical forces may interact with the biological, molecular and genetic programs during development to sculpt the growing organs. Since then I have been developing and using tools (e.g., micropatterning and microfluidics) to measure, perturb and watch these processes in complex tissues and organs to connect mechanical forces to the cellular programs driving development, homeostasis and disease.
Question:
Were there many naysayers and how did you navigate that?
Answer:
There are always naysayers and skeptics; however, you just have to believe in your ideas. I surround myself with extremely intelligent and creative students and collaborators grounded in very diverse fields of study. We leverage that diversity of training, perspective and opinion, and allow ourselves to be ruthlessly critical of any ideas we have so that the best ideas float to the top. I know that if we can tear apart and build on an idea within that framework, then even if it's difficult, it's an idea or approach that is important and it has a higher likelihood of success.
Question:
Did anyone in particular inspire you to think differently?
Answer:
I grew up in a hard working, blue-collar family full of elementary school teachers. I was one of the few in my family to go to college and the first to go to graduate school. I didn't know anyone in science or research growing up. However, even though he didn't go to college, my father is exceptionally clever and has an innate understanding and ability to build and fix things, usually in a jury-rigged, MacGyver-esque fashion. I think the many hours I spent with my dad as a kid gave me the exposure (and practice) of thinking this way–to really understand how something works and to laterally generate solutions to a problem. This is fundamentally how I think about problems today. 
Question:
What has been most satisfying about your work? Most terrifying?
Answer:
Training my students is both the most satisfying and terrifying aspect of my work. The ability to work with diverse students, to help develop their critical thinking skills and abilities in the lab, and to watch them grow as people/engineers/scientists is extremely rewarding. They provide endless new ideas and contagious enthusiasm. However, it is also a tremendous responsibility to provide meaningful mentorship and the latitude students need to develop into successful innovators. This is a responsibility that I don't take lightly. I believe I will continue to make significant contributions to scientific knowledge, but I know that some of my most important contributions will be the people I train. My trainees will continue to innovate and improve the world in their own way.
Question:
What is your favorite problem at the moment?
Answer:
It is hard to choose. We are working on a range of projects that I find deeply interesting, challenging and impactful. These projects span the gamut, from developing microfluidic systems to study virus-host interactions across multiple ecological contexts, to devising drug-delivery strategies to selectively treat mom or baby during pregnancy, to creating a microfluidic device for the culture of mouse lungs to study the molecular signaling (dys)regulation that occurs in premature babies when they are placed on a ventilator.
Question:
Does your disruptive side prove challenging at home?
Answer:
No, my wife keeps me in line. In all seriousness, I am fortunate to have a partner that is exceptionally supportive of me and my ideas. She also serves as a front-line screen for my crazy ideas and helps keep me grounded in reality. That said, I do think she is happy that I have my own laboratory space to tinker and build things so that I leave the appliances alone…
Question:
Why do you want to keep doing this work?
Answer:
I think that the problems we are working on are exceptionally challenging, but that we are looking at these problems in a different way such that we can really move the needle and generate solutions. Having had experience treating patients as a medic on an ambulance and interacting with parents and babies in the NICU, I know the direct impacts of the work we are pursuing for parents and kids who are given the scare of their lives with a grim diagnosis. If science tells us anything — it is that a life-changing discovery is just around the corner. We just need the courage to test some of our craziest ideas to try and make a real difference.
A disruptor prevents things from proceeding as usual. But that's not always bad. In research and education, we're always turning ideas and methods on their ear in the quest to learn something new…
read more
SUBSCRIBE & CONNECT
The University of Delaware Research magazine showcases the discoveries, inventions and excellence of UD's faculty, staff and students. Sign up for a free subscription.