DEFENDING EQUAL ACCESS TO FOOD
As head of the U.S. Food Administration, Herbert Hoover created the "Clean Plate" campaign during World War I to encourage Americans to conserve resources by using less, reducing waste and "cleaning their plate at every meal." President Harry Truman helped revive this practice in elementary schools in the wake of the Great Depression and World War II.
Today, Allison Karpyn studies a different kind of clean plate challenge facing Americans—food insecurity—an individual or family's limited or uncertain access to adequate nutritious food. This can mean not enough food, or it can refer to a reduction in the quality, variety or desirability of the food available. It's a public health issue that contributes to hunger and also to health conditions such as obesity and diabetes.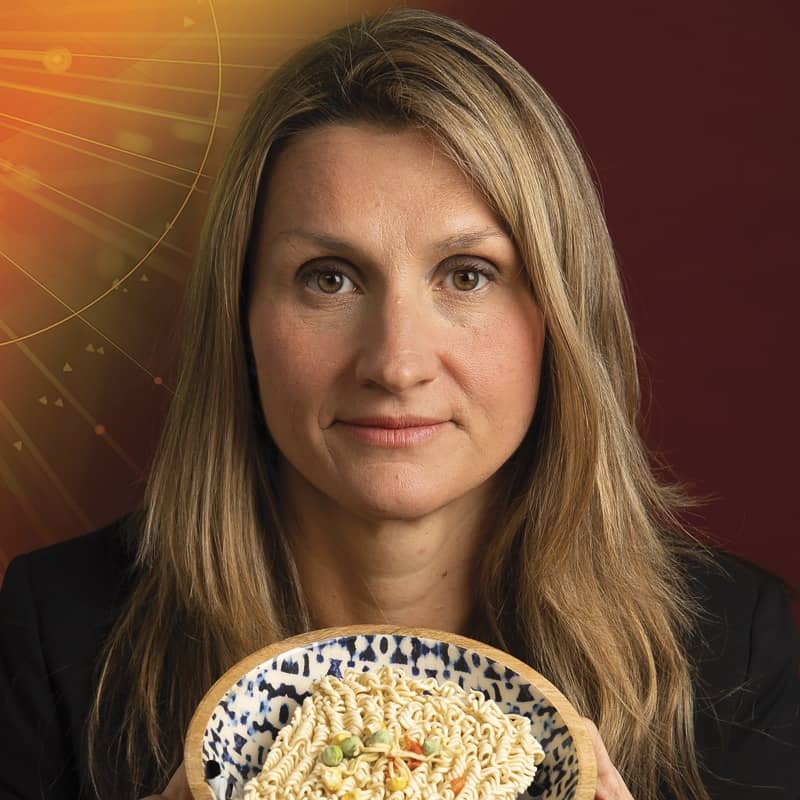 Allison Karpyn
Associate Professor
Senior Associate Director,
Center for Research in Education and Social Policy
MEET ALLISON
How does a new supermarket impact people who live nearby? Can healthy options be found in the little store down the street? These are questions that Allison Karpyn ponders regularly. Committed to informing policy and practice, Karpyn focuses on communities and what their residents, especially children, eat. Her current research centers on corner store programs in urban areas and whether in-store marketing in supermarkets can influence the purchase of healthier food options.
Karpyn is senior associate director of UD's Center for Research in Education and Social Policy (CRESP) and an associate professor of human development and family sciences at UD. Prior to joining UD, Karpyn spent 12 years with The Food Trust in Philadelphia.

According to the U.S. Department of Agriculture, 40 million people, including 540,000 children, lived in food-insecure households in 2017.
Question:
What do you study, and what led you into this field?
Answer:
I study the root causes of food insecurity, which influence hunger and obesity. I was led into the field as an undergraduate at Johns Hopkins University where I had the opportunity to participate in social science research at an early stage in my career. I worked in Baltimore city schools doing research and saw firsthand how needed it was and what a difference it could make. I really never changed course after that.
Question:
Did you color outside the lines as a kid?
Answer:
I don't remember anything special about my coloring techniques, but this question makes me think of what a 'disruptor' really means. For some, 'disruptor' could speak to a person who is upsetting or rebellious. For me it is more about being driven to search for important answers where, or when, others are not willing and listening to your intuition when it's telling you to go down a path. Also, I think disruption is about speaking up for the 'little guy'–and I definitely did that a lot as a kid.
Question:
Can you recount the tipping point—the idea that produced your 'aha!' moment?
Answer:
I came to academia after having worked for 12 years at a pioneering Philadelphia-based nonprofit organization called The Food Trust. My first 'aha!' moment came in 2003 during hearings of the School Reform Commission (Philadelphia's School Board) where debates were raging about whether to implement a school beverage policy that would restrict soda and other sugar-sweetened beverages. I realized then how persuasive research can be and how critical it is to inform policy. Through that process, I also saw that it is possible to achieve policies that put children's best interests at heart, even if you don't have much money for lobbying. 
Question:
Were there many naysayers and how did you navigate that?
Answer:
I generally surround myself with hard-working, dedicated professionals who understand the realities of today's families. I also stay with an issue even if it means getting some flak. And debates are good! Naysayers can create conversations around important policy issues like how to strike a balance between industry needs and public health, which are central in an economically driven democracy. These conversations open the door to more innovative research ideas, too.
Question:
What has been most satisfying about your work? Most terrifying?
Answer:
My best days are in the community, listening. In Kalamazoo, Michigan, recently I heard stories and saw pictures from customers and employees about the difference a new supermarket has made in a lower-income neighborhood. It is hard to know good people who are trying to raise a family on $15 dollars an hour, already higher than minimum wage, and still not making it. One woman I talked to works 120 hours per week and relies on food stamps so she and her kids can get by. She could really tell you how to buy on a budget! That's the most terrifying part: thinking about what happens to the part of America that is earning an hourly wage and not making it.
Question:
What is your favorite problem at the moment?
Answer:
Like any good researcher, I am interested in a few problems. I have a new book out with ramen on the cover (Food and Public Health). The high consumption of ramen plagues me. It's one of those very low-cost, tasty foods that feels home-cooked but is laden with salt and fat and lacks nutrition. But it is affordable at only 39 cents a package.
I am also interested in how we can better translate research to the community–our teachers, health care professionals, community leaders and policymakers. UD is leading several translational grants, including the ACCEL Program and the Center for Research Use in Education, to understand how to measure and actually make a difference through listening to needs and sharing data. This work is aligned with UD's civic engagement work, which is growing. Understanding how to measure and capture a university's efforts in the community is a wonderful problem. 
Question:
Why do you want to keep doing this work?
Answer:
I remember when my daughter, in second grade, looked at an image of a man in a lab coat with a test tube in his hand and said, "Look at the scientist, mom." When I offered that I, too, was a scientist, she broke out laughing and said, "No, you are not!" I realized then that we still don't talk enough about the value of social science to our world. That, and the potential to help children get an equal chance at achieving the American dream, keeps me going.
A disruptor prevents things from proceeding as usual. But that's not always bad. In research and education, we're always turning ideas and methods on their ear in the quest to learn something new…
read more
SUBSCRIBE & CONNECT
The University of Delaware Research magazine showcases the discoveries, inventions and excellence of UD's faculty, staff and students. Sign up for a free subscription.