RESEARCH
DISCOVERY
A Blog Devoted to UD Innovation, Excellence & Scholarship
Recent graduate Jessica Storm combines her passions for weather and photography
Photo courtesy of Jessica Storm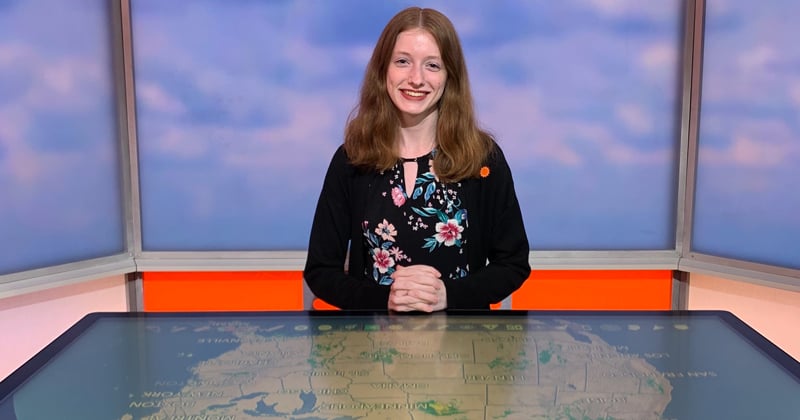 During her time at UD, Jessica Storm worked with AccuWeather in State College, Pennsylvania, an internship she secured as a member of the University's chapter of the American Meteorological Society.
Jessica Storm has her head in the clouds.
A 2020 graduate of the meteorology and climatology program at the University of Delaware, this barometric-minded Blue Hen is primed for a career in forecasting. When she's not predicting the weather? She's outside enjoying (and capturing) it as a passionate amateur photographer.
"With one interest, I'm studying the thing I love," she said. "With the other, I'm experiencing it."
It all started when Storm (actual last name) was a little girl in Medford, New Jersey. While most kids her age were watching Disney, she explained, she found herself captivated by the Weather Channel. On winter evenings, she frequently performed an original dance called "Snow to the Region," set to the station's smooth jazz soundtrack. During warmer months, when the outdoor light turned slightly orange and an "earthy, soil" smell became noticeable, Storm ran to the front porch of her family's wooded home, eagerly anticipating the coming summer thunderstorm.
"I know some people who are so afraid of thunder," she said. "But I hear it and get this sense of power in me. I feel like an evil villain and just start cackling. There's the sense that this huge thing is coming, and it's natural and wild. I feel a connection to it."
As an incoming first-year student four years ago, UD's Department of Geography and Spatial Sciences, which offers the meteorology program, naturally piqued Storm's interest. Plus, with such an on-the-nose moniker, enrolling in the major felt a bit like fate.
"People do comment about my name, but I don't mind that at all," Storm said. "If you want to go into the forecasting business, I've learned that it helps to be memorable."