RESEARCH
DISCOVERY
A Blog Devoted to UD Innovation, Excellence & Scholarship
Resilience and connection
Despite the global pandemic, Blue Hens continue to persevere
Illustration by Christian Derr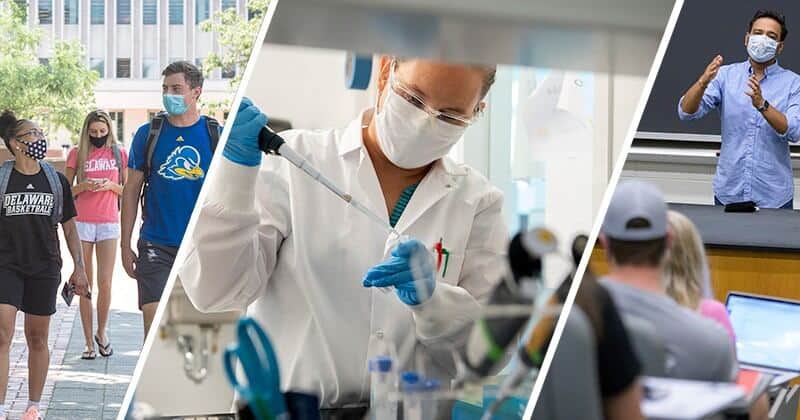 With Blue Hen pride and determination, UD students, faculty and staff responded to the challenges of the coronavirus pandemic by finding success in new and innovative ways.
The coronavirus (COVID-19) pandemic has turned the world inside out — or, more accurately given the need for lockdowns, outside in. So a traditional college experience with games of hacky sack on the grass and late-night cram sessions with friends? That went out the window about the same time people began sanitizing their Dorito bags. But at the University of Delaware, recent semesters — although atypical — have proven successful.
While a majority of students transitioned to a virtual learning format, the spirit of engagement, mentorship and service that mark the Blue Hen experience transcended Zoom. On campus and off, the UD community came together to make the most of an unprecedented moment, channeling this global struggle into research, art, innovation and academic rigor. Now, as the University prepares for a more robust in-person experience in the spring, this community is building upon momentum gained during a period of resilience and, oddly enough, connection.
"In the face of extraordinary public health and socio-economic challenges, we need to rise above, seizing new opportunities to be both creative and productive as we reinvent tomorrow with renewed Blue Hen spirit," UD President Dennis Assanis wrote in a letter to the campus community on Sept. 1, the first day of fall classes. "Not surprisingly, the University of Delaware community has stepped up to that challenge."
So how, exactly, did this "stepping up" happen? And how will our Blue Hen community continue to persevere, despite all the challenges of 2020?
Prioritizing health
From the outset, protecting health and safety served as the guiding principle for campus leadership. UD administrators worked alongside public health officials and faculty experts to determine the best path forward. 
For the fall, this plan included limiting face-to-face instruction, designating specific quarantine spaces and establishing social distancing protocols in all campus buildings. Daily health screenings continue to be mandatory for anyone utilizing UD facilities, while a robust on-campus program provides regular coronavirus testing of both symptomatic and asymptomatic individuals. For contact tracing, the University partnered with the Delaware Division of Public Health, and together launched the COVID Alert DE smartphone app, which notifies users who have come into close contact with positive cases.
Since the beginning, several communication initiatives have been activated to both inform and empower Blue Hens to act responsibly with community health and safety as a shared priority. In March, UD launched a coronavirus website with answers to frequently asked questions, and this page is continually updated. Volunteers from departments across campus staff a virtual email center seven days a week. Additionally, as part of its commitment to transparency, the University updates every weekday a dashboard with information on testing rates and confirmed positive cases in the community.
To strengthen this culture of health and caring, UD's Office of Communications and Marketing collaborated with students, faculty and staff to conceive and produce the Protect the Flock campaign, which encourages responsible behavior and shared commitment to one another.
These efforts to promote wellbeing during a turbulent period have included mental health initiatives. The Center for Counseling and Student Development transitioned its existing services, including therapy and crisis support, to a virtual format. And the office has added resources specifically tailored for pandemic-related stress. 
For Blue Hens facing unanticipated hardship in the midst of the pandemic, UD is meeting housing and financial security needs through a Student Crisis Fund, a community crowdsourcing effort. And, for those with academic technology needs, the University offers a Laptop Loaner Program.