RESEARCH
DISCOVERY
A Blog Devoted to UD Innovation, Excellence & Scholarship
Research Development Leader Announced
Professor Eric Wommack appointed to UD Research Office team
Photo by Kathy F. Atkinson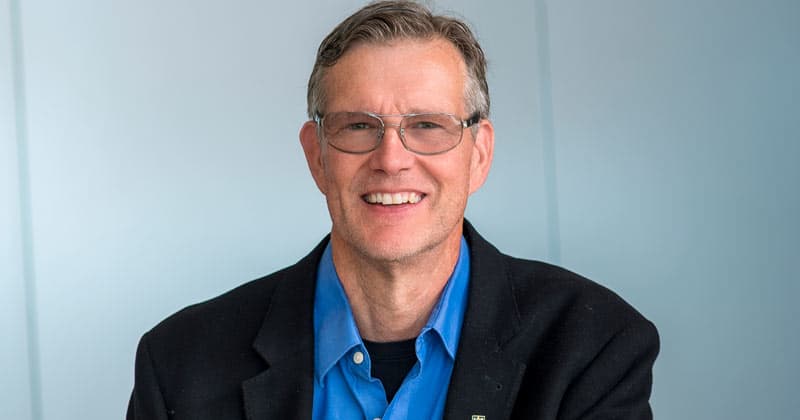 Eric Wommack is a professor of environmental microbiology in the Department of Plant and Soil Sciences in the College of Agriculture and Natural Resources at the University of Delaware.
K. Eric Wommack has been appointed senior associate vice president for research at the University of Delaware. Wommack, a professor of environmental microbiology, formerly served as deputy and associate dean for research and graduate education in UD's College of Agriculture and Natural Resources.
"Dr. Wommack is well known at UD and beyond for his excellence, drive and commitment to collaboration," said Kelvin Lee, interim vice president for research, scholarship and innovation. "He will play a critical role in the development of competitive research proposals across UD, as well as new partnerships and programs on local to global levels. We are delighted to welcome Eric to the Research Office team."
Wommack, who always dreamed of becoming a scientist and has helped to advance the field of environmental microbiology, is excited to take on the new role.
"Research is very near and dear to my heart," Wommack said. "If you think about it, the most unique thing a Research-1 university does is produce the experts, the professors, the thought leaders. Nowhere else does that. Central to that production is research — you don't produce experts without research. That is just so critical to society."
Among his responsibilities, Wommack will lead the research development team in advancing faculty collaborations and high-profile, cutting-edge research initiatives, including the establishment of successful research center grants and programs across multiple academic disciplines. His team also provides assistance to investigators in coordinating large-scale, multidisciplinary proposals and offers educational workshops and other opportunities for strengthening faculty research capabilities.
Wommack said he wants to help faculty to be as competitive as they can be in a competitive research environment and help facilitate sponsorship for their research.
"The most wonderful thing you do as a faculty member, outside of teaching your students, is to think about big ideas, answer intriguing questions and solve difficult problems," Wommack said. "You want to spend as much time as possible on this work and you have to articulate it in a compelling way so that someone wants to sponsor it. I want to help PIs [principal investigators] articulate those impacts and assist where I can in identifying potential collaborators."
As a microbial ecologist, Wommack is no stranger to interdisciplinary research. He also is used to breaking new ground in a field that has been in existence for only about the past 50 years. Complementing his administrative role, he plans to continue with his research on the planet's viruses, which, as he said, "have taken him everywhere," from deep-sea hydrothermal vents to poultry production houses to the human gut, and lots of places in between — including agricultural soils, the stomachs of beef and dairy cattle, and soybeans with their nitrogen-fixing bacteria, to name only a few.
Viruses are incredibly abundant around the world, he explained, and the process which viruses use to infect bacteria has far-reaching consequences for how nutrients and energy flow through ecosystems. DNA sequencing has shown that viruses contain an extraordinarily diverse array of genes, but their function and impact still largely remain a mystery.
"I know I was super-excited to come to University years ago because universities are where new knowledge is being discovered and created," Wommack said. "And I think that excites a lot of students. You see these world-class labs and these learned people who know things before everybody else. And hopefully, this is what excites a lot of kids to come to UD."
Wommack earned his doctorate in marine estuarine environmental sciences from the University of Maryland-College Park, a master's degree in physiology from the University of St. Andrews in St. Andrews, Scotland, and both a bachelor of science with honors in biology and bachelor of arts in economics from Emory University.
He holds faculty appointments across UD, in the Department of Plant and Soil Sciences in the College of Agriculture and Natural Resources and at the Delaware Biotechnology Institute; the School of Marine Science and Policy in the College of Earth, Ocean and Environment; and the Department of Biological Sciences in the College of Arts and Sciences.
Wommack's appointment was effective Sept. 5.